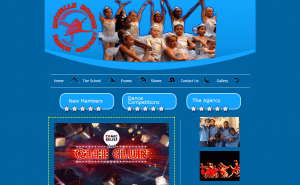 Web design is an important component for any business, large or small, as it provides the first, and a lasting , impression to the outside world. For The Michelle Bourne Dance Academy, who run dance classes in London for children aged 5 years and above for 13 years, the web design is fundamentally important to attracting new business.
The growth of the academy meant that it was about time that the old website also grew and needed to reflect what the dance academy is about. The existing web design didn't meet the needs of the academy and didn't appeal in a child-friendly way to both boys and girls.
Web Design Consultation
In close consultation with the academy owner, Michelle Bourne, Aardvarky took on board all the feedback and issues raised with the existing web design, to put together a new web design that was intuitive and appealed to both boys and girls.
Using a colour scheme for the web design that would appeal to both sexes, together with an appropriate layout and selection of font types, the new web design has been put together to be both cost-effective (under £500) and engaging for the children that attend the dance academy through the use of social media such as facebook comments.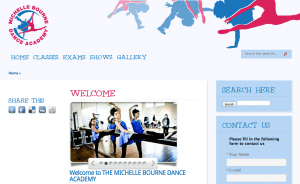 While the new web design meets the needs to the Dance Academy, Aardvarky also built the website on an open standards content management system (CMS). This means that the Michelle Bourne Dance Academy now has the power to update and change the content of their website without having to request changes from a website designer and incur further costs.
Web design is more than just about the aesthetics of how the website looks. Whilst looks are obviously important, the web design needs to be such that the website functions according to its purpose and fulfils the goals that have been set.
We are pleased to have been given the privilege of delivering a web design that met the requirements of MBDA whilst also considering ongoing costs and providing a cost effective solution.
Michelle Bourne Dance Academy were one of the first to take advantage of the new range of small business services being offered by Aardvarky to bring things like custom web design within the reach of small businesses on limited budgets.
Contact one of our consultants today, or complete the free estimate form online to see how we could help you with your web design requirements.
Get A FREE Web Design Estimate
Read Our Case Studies & News
[contact-form-7 id="885″ title="Quotation Request"]