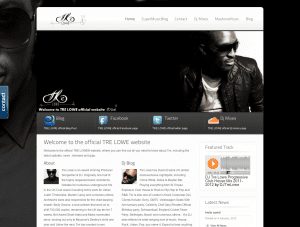 Tre Lowe is an award winning Producer Songwriter & DJ. Originally one half of the highly respected band; Architects. Notable for numerous underground hits in the UK Club scene including remix work for Usher, Justin Timberlake, Mariah Carey and numerous others. Architects were also responsible for the chart-topping smash: Body Groove, a club anthem that went on to shift 750,000 copies, remaining in the UK top ten for 7 weeks. Brit Award Short listed and Mobo nominated twice, losing out only to Beyonce's Destiny's child one year and Usher the next.
Aardvarky were tasked with bringing Tre Lowe's website 'from the ashes' to be something that truly represents the image and style of an artist of his calibre.
A mixture of mood photography and complimentary design has provided a website fitting for the occasion.
Aardvarky also work with Tre Lowe to drive more targeted traffic to his website through search engine optimisation and social media marketing.
See Website