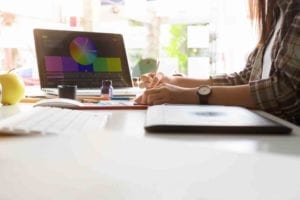 We believe in being transparent and open with our pricing. Although there are many elements that can affect the cost of building a website, it should still be obvious what you're paying for before you have to reach for your wallet.
Our website price calculator tool gives the most common website requirements, so you can see how much your website is likely to cost, whether it's a simple brochure-site showing what your business does or an advanced e-commerce site:
How much to build my website ?
Easily estimate the cost of your website using our estimation tool.
Thanks, we will contact you soon
Is there anything missing?
If you can't see what you want above in our website price calculator, get in touch and tell us what you need. We can accommodate almost any requirements, and our open and transparent policy on pricing means that you'll never be in the dark over exactly what you're paying for.
We pride ourselves on our ability to explain everything to all of our customers, even the technophobic ones! We think this is how investing in a website for your business should be: simple and transparent.
If you would like a full written quotation (we supply these anyway before we start any work so that everyone is clear), or want to discuss payment options or discounts, just hit the button below and we'll be in touch...